Attracting and Retaining 3PL Sales Talent
3 min read
November 16, 2022
Recruiting top sales talent is rough for any business today, but in third-party logistics (3PL), the challenges of the current market are compounded by the complexity of the industry. Attracting candidates is the first step, but long-term success requires retention as well as recruiting — and retention efforts work best when they are grounded in company culture and a positive employee experience.
State of sales recruiting
With economic uncertainty more rule than exception in the past few years, recruiting for sales positions remains challenging. This time last year, most B2B companies had open sales positions as high as 10% to 15% of their teams. Sales capacity remains at risk today, with estimates of 50% to 60% reduced capacity when open positions, expected attrition, and lower rep productivity are counted as contributing factors.

Research shows more than half (56%) of employed sales professionals are actively job hunting — submitting résumés, applying with other employers, engaging with recruiters, and/or planning their exit timelines. With top performing reps just as likely to be looking as their less experienced colleagues, retention is essential to current success and future growth.
Successful recruiting and retention strategies account for traditional employee priorities, such as compensation, benefits, and promotion opportunities, and invest in meeting today's evolving employee expectations for work-life balance and career planning for short- and long-term growth.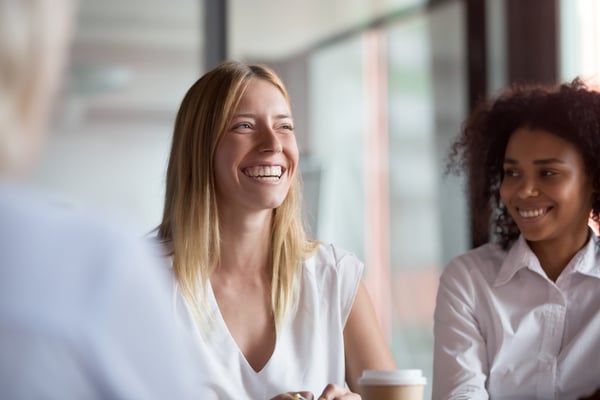 Benefits of retention
When sales team retention is a top priority for employers, attrition is limited, but performance also improves across other key metrics, including:
Cost savings. U.S. employers spend upwards of $1 trillion on hiring replacement workers annually. Other issues include lost productivity, lower engagement, company culture impact, and customer service concerns, all of which can compound the cost of turnover.
Productivity. Persistent turnover affects many areas of a business, but productivity might be the most obvious. A new hire can take months or years to reach the productivity levels of existing employees. New hires also need time to build relationships with coworkers and clients.
Customer experience. Customer satisfaction depends on employees and their engagement with prospects and existing clients. New hires typically take longer to complete tasks and may be less adept at problem solving than their more experienced colleagues — all of which can negatively affect the customer experience.
Employee experience. With its impact on sales rep engagement, job satisfaction, motivation, performance, and company loyalty, a positive employee experience is a critical component of sales team success.
Growth. Reduced hiring and training costs, increased productivity, and improved customer and employee experiences drive increased revenue and growth opportunities for your whole company.
Strategies for closing the gap
Considering the high numbers of sales professionals actively seeking work elsewhere, how can companies reinforce retention efforts to maintain the sales talent already in place?

Talented sales reps want to work with employers that demonstrate commitment to their personal success. Does your company prioritize career planning and development? Do team leaders advocate for employee promotions and/or compensation increases?
Using the employee experience and a commitment to each rep's long-term professional success as starting points, consider the following improvements for your retention strategy:
Future employability. In complex sales environments, like 3PL, job titles are less critical than industry knowledge, earning power, and future employability. Successful 3PLs encourage sales reps to learn new skills and cultivate industry knowledge. Retention relies less on titles and more on opportunities for measurable improvement in expertise, capability, and earning potential.
C-suite support. Leadership advocacy and support — from team leaders all the way to the C-suite — encourage retention via direct communication and recognition. When C-suite executives engage with reps; show strong interest; and provide positive, tangible support for sales activity, reps are empowered to reach out to everyone in their leadership hierarchy. Accessible leaders contribute to a positive company culture, a primary driver of employee retention.
A clear career path. Communicate the requirements for advancement — by compensation increase, learning and development opportunities, and/or territory expansion — early and often. Clear expectations and an accessible path to success encourage retention by aligning sales rep goals to company growth.
Compensation clarity. When reps can clearly access and understand the link between sales activity and compensation, they can optimize their sales activity for maximum efficiency and success.
Third-party logistics, like most complex industries, demands more of its sales talent. Lower the odds of losing knowledgeable sales representatives with comprehensive retention efforts that address what today's talent wants. Improve rep recruitment and retention with a positive employee experience and opportunities for talent to enhance their expertise, build earning power, and create long-term professional success.
Schedule a demo of your commission management solution today at SalesVista.com.