A sales
compensation
platform your
entire company
can
support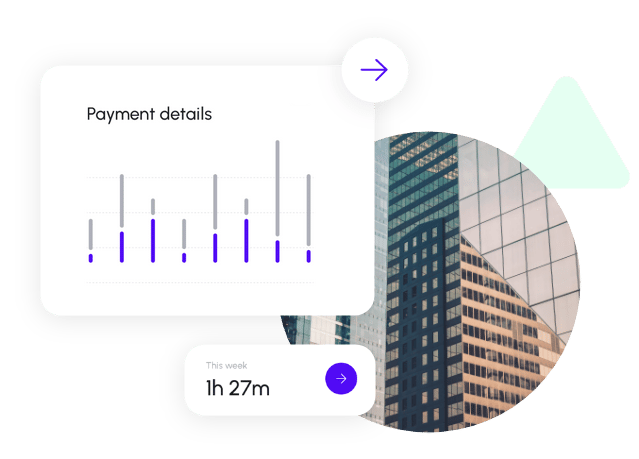 CONTACT SALES
Get in touch to learn about SalesVista's Sales Compensation Management Solution.
Manual sales compensation planning and management is a laborious process, and we're here to help.

You'll be amazed how easy it is to streamline your compensation workflows and commission payouts with consistent accuracy – ultimately improving sales motivation and performance.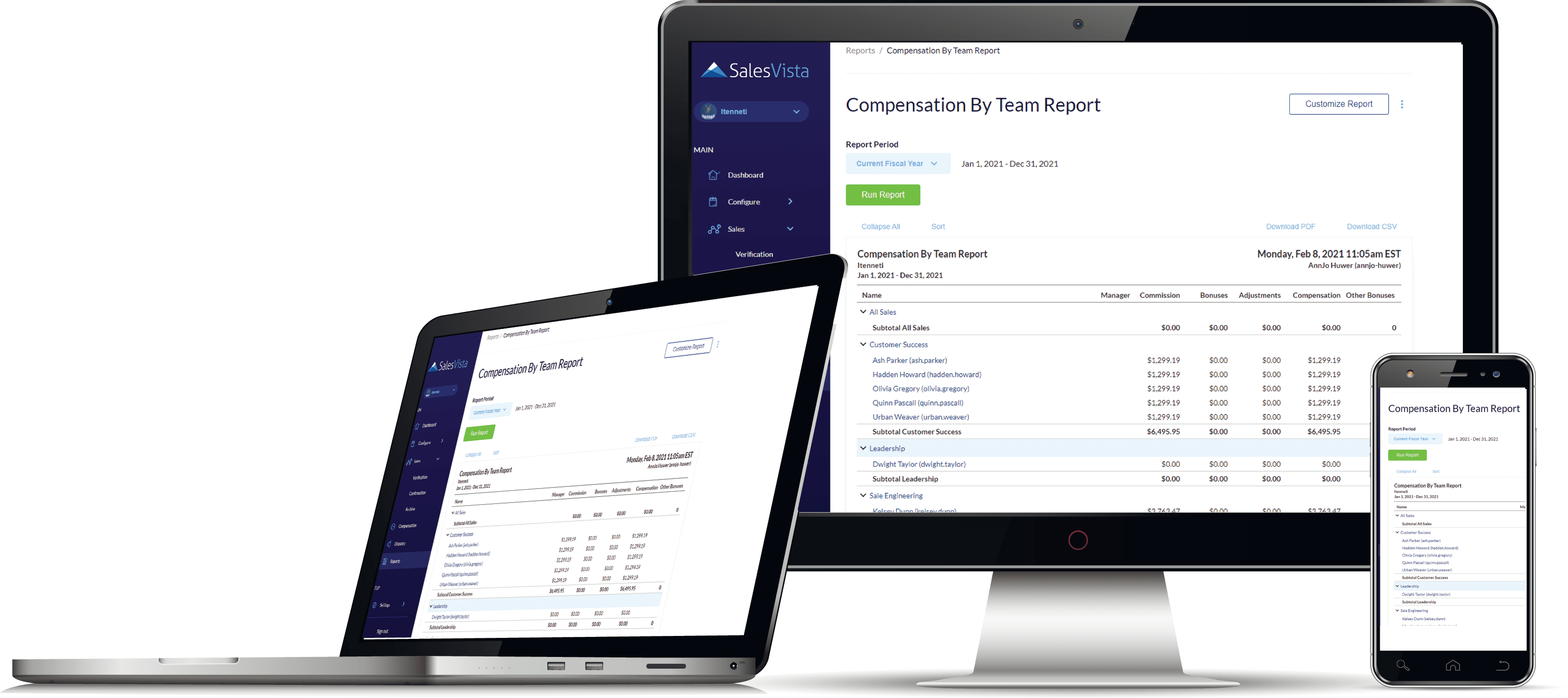 Accuracy. Efficiency. Control.
A better way to motivate your sales teams to achieve maximum results.
Ready to learn more? Please utilize the form below to get in touch, and our dedicated sales team will reach out shortly.
Sales Management & Sales Operations
Sales & Revenue Teams
Compensation Accountant
Chief Financial Officer
Controller
C-Suite
Sales Management & Sales Operations

Sales Management & Sales Operations
Provide reliable performance analytics to effectively motivate sales reps, and improve alignment with other stakeholders across the organization.
Use proof of concept modeling tools to estimate and measure the effect of changes to a compensation plan before executing any new changes.
Effortlessly publish and distribute the results of compensation adjustments with assurance that the right compensation plan is going to the right sales rep, with the right commission payout.
Sales & Revenue Teams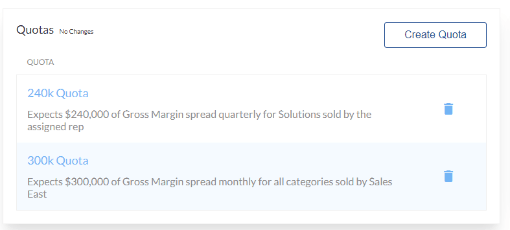 Sales & Revenue Teams
Provide sales reps with full visibility of goals and adjustments with clear and easy-to-understand attainment reporting.

Keep your salespeople informed throughout the attainment periods and allow them to easily view and sign for new compensation plans and adjustments— without any guesswork.

Salespeople can stay on top of performance and commission statuses — anytime and anywhere with powerful tracking via mobile app access.
Compensation Accountant

Compensation Accountant
Eliminate the high expense of over and under-commission payments when using accurate payout reporting to HR.

Gain confidence in generating accurate commission payouts and reporting — even with constant changes affecting the compensation plans.
Chief Financial Officer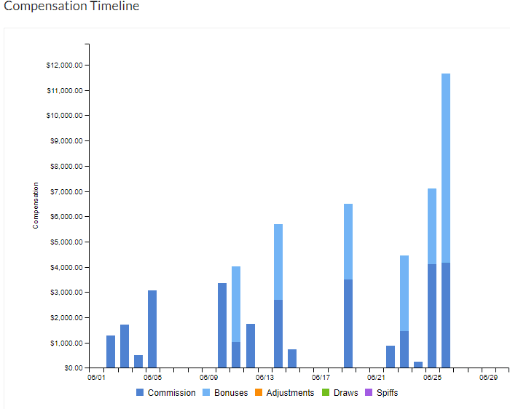 Chief Financial Officer
Remove the guesswork with automated and reliable data that provides actionable insights—improving budget and forecast planning. AUTOMATED ACCELERATION planning.

Improve the financial oversight of changing compensation plans with improved business alignment between sales, C-Suite, and shifting business scenarios –using rules-based checkpoints to improve control.
Controller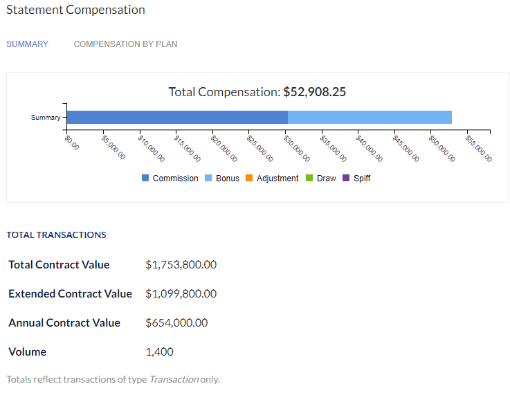 Controller
Rely on SalesVista's cloud-technology without the need for IT resources. With multiple integration options, businesses can efficiently scale without compromising on security, quality, and value.

Use proof of concept modeling tools to estimate and measure the effect of changes to a compensation plan before executing any new changes.
C-Suite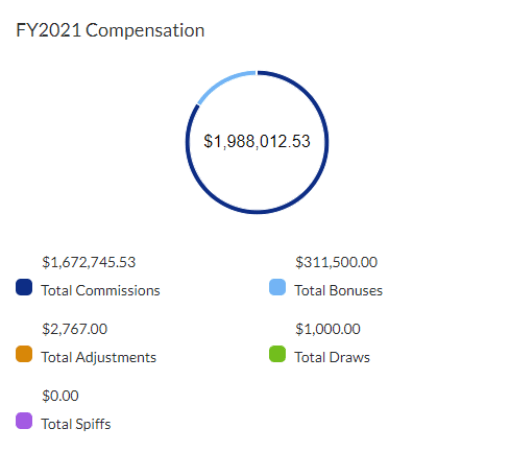 C-Suite
Gain consistent visibility and measurement of performance and productivity across the company to proactively make decisions affecting profitability and alignment to the company goals.

Built-in checkpoints improve workflows and processes across operations help ensure policies are maintained. Purchase activities are easily tracked with sales productivity to effectively manage support of products and services.

Improve employee satisfaction and trust with accurate bonus structures and commission payouts to help retain talent.
Increase your sales force, Try SalesVista Today!
"SalesVista provided modern commissions tool that allowed us to streamline our process from end to end. Finance, Operations and Sales are all very happy."

Nathan
"Every time we onboarded another employee, I had to start over. This app has eliminated all of this and we are now adding commissions 1 pay day ahead of schedule."

Randall
"The SalesVista team is amazing. They will work with you to find the best solutions as well as help fix any issues that arise. Great customer support!"

Maura
"SalesVista automates the calculation of sales commission which has helped minimize errors and save time during the calculation process. It is also very helpful to keep all discussion of commission adjustments within one place."

Star