PRODUCT
Online and mobile commission tracking improves motivation and productivity.
Build trust and confidence with your sales team when you remove their performance guesswork with reliable and transparent commission tracking tools for web and mobile.
SalesVista
Improve accuracy, efficiency, and control with a single solution for sales compensation management.
SalesVista Mobile™
Transparent mobile tracking keeps reps in sync and motivated with commission updates and earnings.
SalesVista iHub™
Streamline data integration as a single trustworthy data source to automate compensation structures and enhance productivity.
SalesVista ARM™
Enhance visibility, decision-making, and alignment with accurate real-time data analytics and insights.
AUTOMATE AND MOTIVATE WITH TRANSPARENCY.
Businesses can't scale with manual compensation processes—you can with SalesVista.
SalesVista's compensation automation provides self-service capabilities to oversee all sales activities and make changes on the fly. Salespeople are motivated with convenient tracking of their pipeline, payouts, and commission earnings.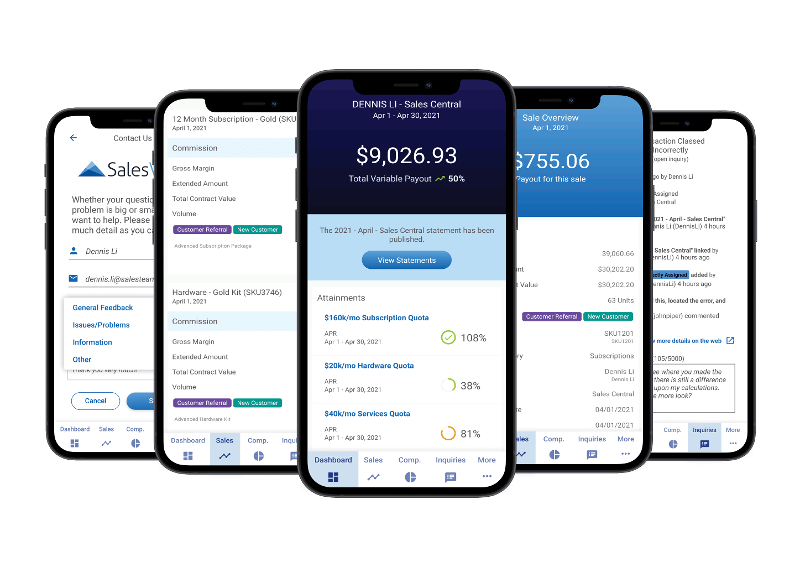 SalesVista is your reliable compensation guide, reminding you about important sales activities and deadlines.
Single Solution

Centralized Plans

Compensation

Financial Modeling

Resolution Tools

Reports
One-stop compensation service.
Get the big picture details of your sales compensation activities via a centralized true data source. With SalesVista, there is no toggling between CRMs, manual reports, and spreadsheets to enter updates, run reports, and validate commission. With the main dashboard, you easily view plans, reps, teams, products, incentives, and compensation statements, all at a glance.
Automation improves the speed of global and one-off commission changes.
Improve the efficiency of managing all of your compensation changes in a centralized location. It's easy to confirm sales and filter views by reps, teams, products, and customers. Guided chevron-workflows with deadline reminders ensure you don't miss compensation activities that need your attention.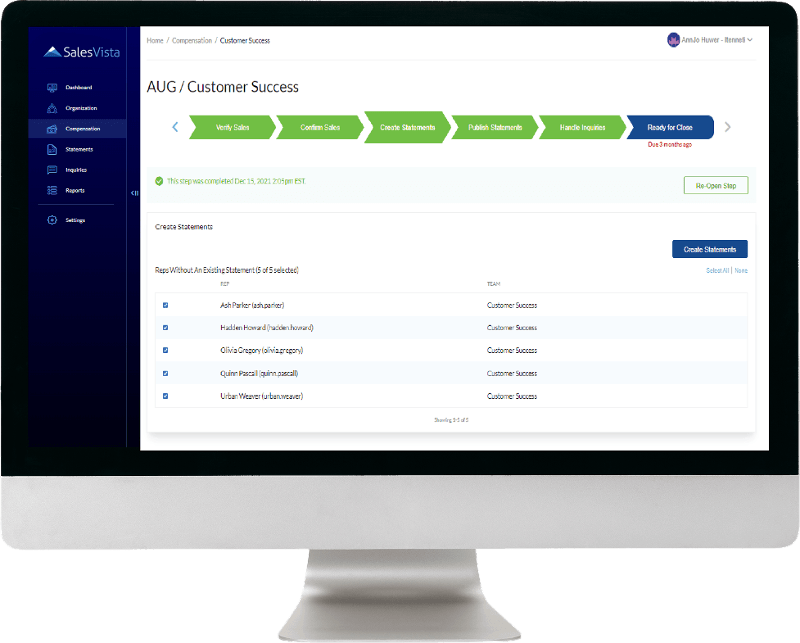 Maintain commission accuracy with built-in approvals and validations.
Keep your rep plans safe with rules-based processes and policies. SalesVista helps to ensure the appropriate personnel is authorized to approve or validate any compensation changes. With chevron-guided workflows, it's easy to stay ahead of deadlines to ensure accurate updates and commission statements.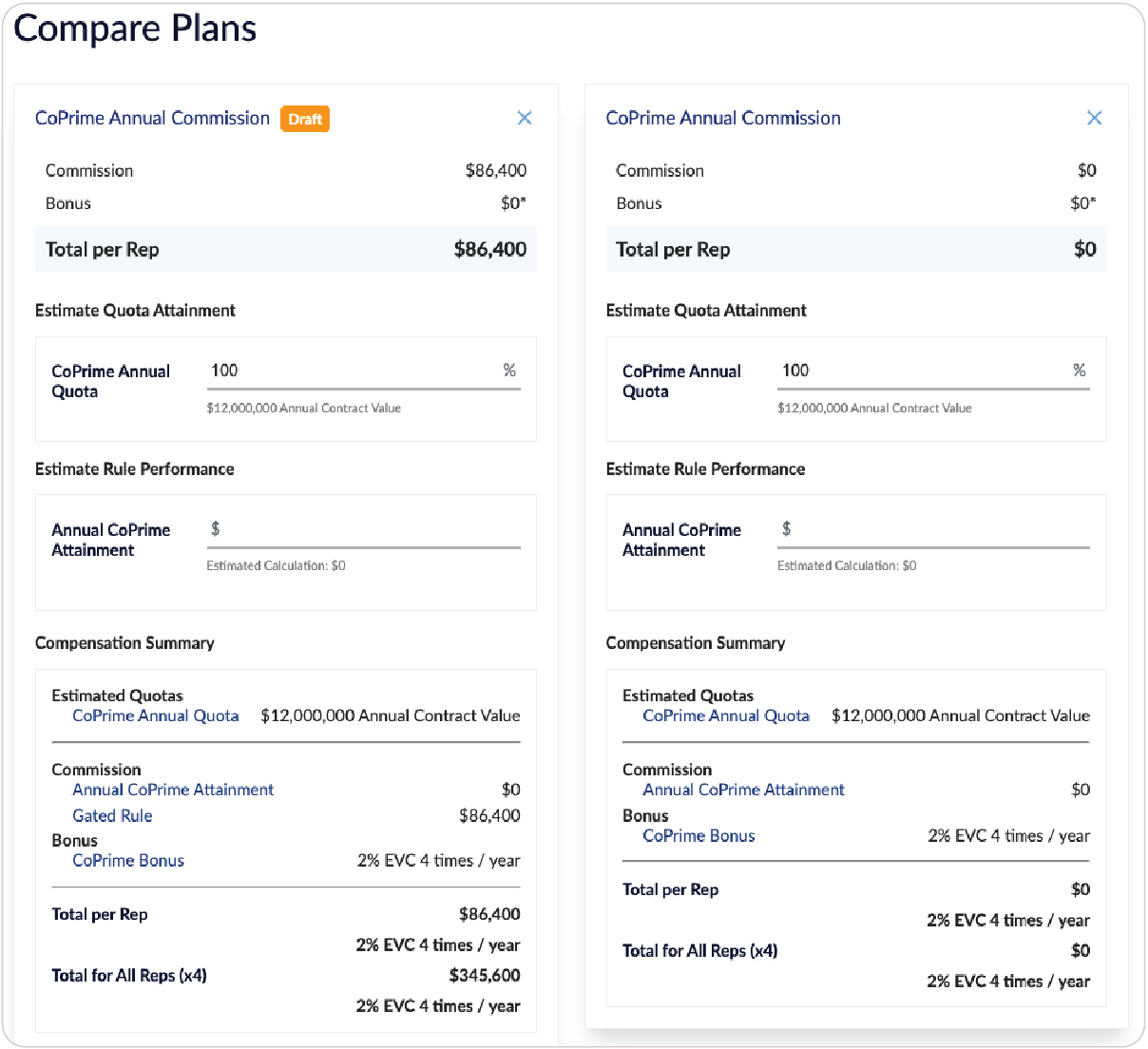 Assess financial impact before implementing new plan changes.
Use a proof of concept modeling tool to quickly assess the financial impact of plan modifications before executing any adjustments. SalesVista provides a comparative overview in a draft format to view financial metrics (e.g., quota, commission, bonus, EVC percentage, etc.,) for your reps and teams.
Let your team know they matter—quickly respond to their commission inquires.
Our sales compensation solution comes with built-in resolution tools to address compensation inquiries and concerns. Managers can promptly respond to and resolve commission discrepancies. Keep your reps happy with faster resolution and audit trail tracking for accurate record-keeping via web and mobile.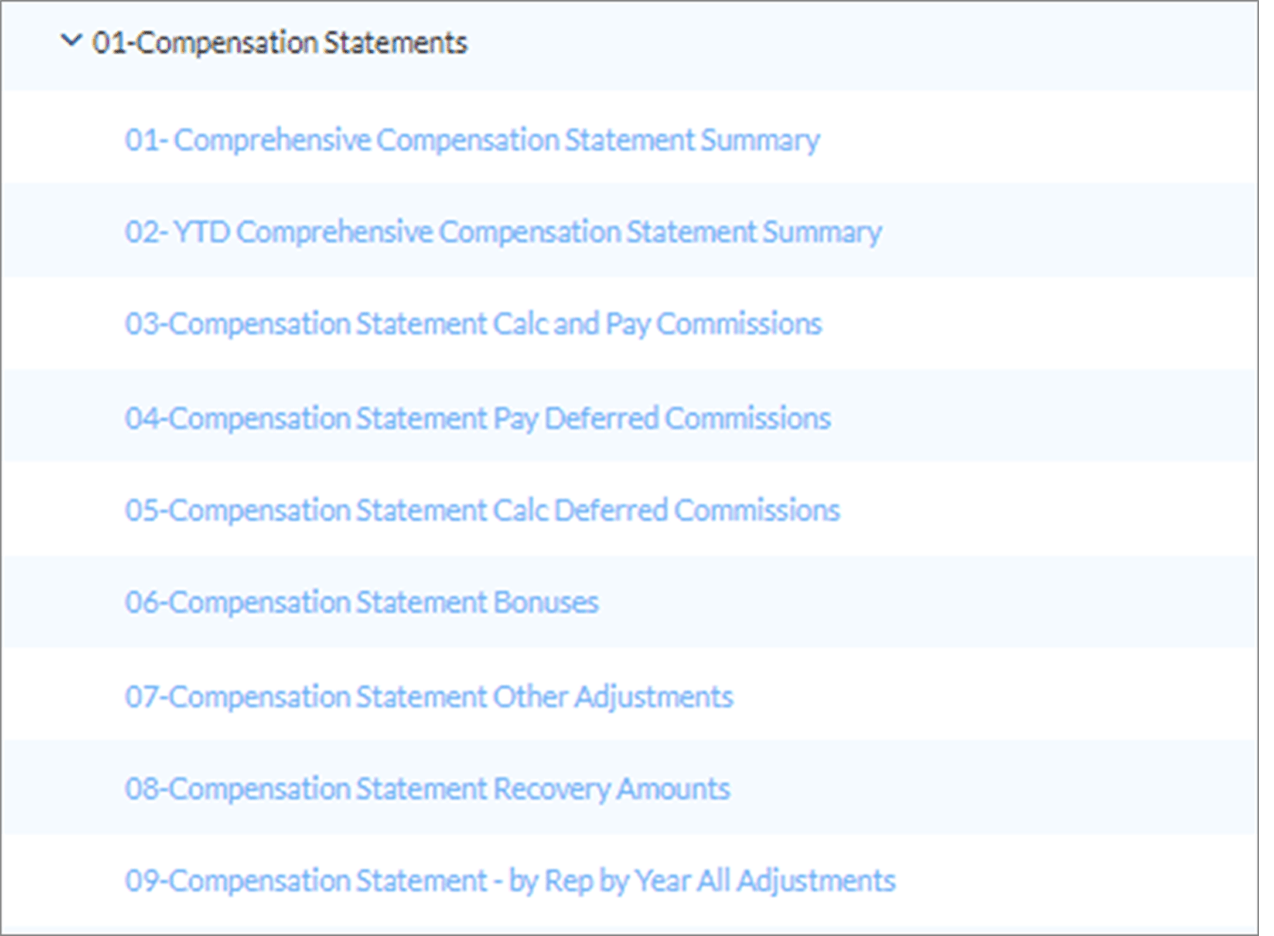 Standard, custom, and advanced reporting with SalesVista ARM.
SalesVista has the largest incentive and commission reporting repository available. Traditional BI applications typically make you perform the most demanding work from creating, writing, and mapping reports when implementing new reporting applications — which can be time-consuming and sometimes complex, but not with SalesVista's ARM; the work is already completed for you. Auto-generated pre-built reports are on standby. Just select the report you want and run it–it's that simple.
BETTER COMMUNICATION, COLLABORATION, AND CONFIDENCE.
Designed for everyone, SalesVista is helping to build a stronger trust data culture for your organization.
SalesVista extends value beyond the compensation solution by helping and enhancing your employees' daily work with quality data. Organizations can raise optimal decision-making across business functions to create a more productive workplace and competitive advantage; especially when data is seen and used as an invaluable resource. Build a strong trust data culture that everyone can benefit from with SalesVista.
Enhance cross-function communications and collaboration.

Improve the alignment across departments with one trust source solution.

Enhance trust and confidence with data credibility—ease of access and use.




Help improve the daily work-life with streamlined processes and workflows.
SALESVISTA ADVANCED REPORTING MODULE (ARM).
With SalesVista ARM you don't need to be a data scientist to transform your metrics into data storytelling.
Your data has something important to tell you, and SaleVista ARM is helping to curate the narrative that needs your attention. SalesVista ARM's AI application fine-tunes your aggregated data into logical computations to provide a rich data repository that sets the stage to optimize how sales, accounting, budgeting and forecasting, audit, and tax (ASC 606) teams operate.
SalesVista can take care of any incentive structure and track it like a reporting GPS.
Rely on a solution designed with over 30 years of finance, accounting, and sales compensation experience. SalesVista can handle any compensation structure, commission calculation, and non-compensatory rewards.
Variable Base Salary
Custom-Defined Periodic Bonus
Variable Payout Schedule
Annual Eligible Commission
Category-Based Commissions
Custom Event-Driven Commission
Product-Based Commissions
Attainment-Base Accelerators
Category-Based Accelerators
When your salespeople are advancing to new teams, plans, products, and services, SalesVista will track and report all of the changing and intricate details for you.
With commission automation—data is faster to acquire, easier to analyze and use in critical moments.
Streamlining workflows improves efficiencies by freeing up your staff for higher-value work, driving down costs, and enhancing the bottom line. SalesVista helps organizations automate their compensation processes to be more agile, responsive, and competitive.
AGILE CHANGES
Make changes at the speed of your business decisions. Automation provides the agility to easily make, track, and report commission adjustments.
OPTIMAL VISIBILITY
Streamline workflows for greater transparency—improve alignment and productivity across the organization.
BETTER ACCOUNTING
Exert better control over your month-end close and expense sheets. Resolution tools keep sales and accounting in sync with commission changes.
GOVERN DATA
Maintain a continuously high level of data protection assuring the right person has access to the right information - every time.
KNOWLEDGE DASHBOARD
Sales Commission Terms
Are you responsible for sales compensation, or new to sales? Here's a snapshot of the most common commission terms (new updates added periodically).
ATTAINMENT
A sales achievement percentage toward a sales target/quota.
ADJUSTMENTS
A modification, deletion, or addition of a prior period date that affects one or more payouts. Adjustments can be made in compensation policies, plan bonuses, and commission components.
BLUEBIRD
An unusually large-scale sale—a windfall sale.
BOOKINGS
Booking is a sales order, often signed.
BONUS
A bonus is an opportunity to earn money for achieving specific results and may be expressed as a percentage of base pay or a fixed amount.
CAP
The maximum cash compensation an employee can earn in a given time period
CLAW-BACK
A commission that is repaid to a business that typically happens when a customer ends a contract earlier than expected.
COMMISSION
A type of payment or revenue sharing resulting from achieving a sale or attaining a given sales level. Commissions are typically expressed as a percentage of the selling price for the product sold.
DRAW
A draw is an advanced payout sales reps can receive as part of their compensation plan. A draw is typically paid from expected future commission earnings.
DIRECT CREDIT
Credit is assigned to a sales rep or payee based on sales (or other activity) they personally generated.
ON-TARGET EARNINGS (OTE)
OTE (or Target Earnings) refers to the amount paid to a salesperson if all their targets have been achieved.
PAY MIX
Pay mix is the percentage of a salesperson's total compensation comprised of salary and on-target commission. It is the ratio of base salary to target incentives.
QUOTA
Quota, also known as goal, objective, performance target, or target, is the amount that a salesperson must sell for a particular period (month, quarter, year) to earn a commission. It can be expressed as absolute numbers, percentages, or the number of goods or services sold or recovered from future payments.
SPIFF
SPIFF (stands for Sales Program Incentive Funds) is a short-term sales incentive strategy where sales reps are awarded a small, discrete bonus for closing a sale or booking a demo, commonly used by companies to use drive up sales.
SPLIT
Split refers to the number of incentive payments and costs that are split between two or more employees.
Start Using SalesVista
The leading sales compensation management solution.
Sign up today for a demo to get started with SalesVista.