PRODUCT
Improve sales productivity and performance with the right motivation.
Build confidence in your sales team when you remove their performance guesswork with transparency.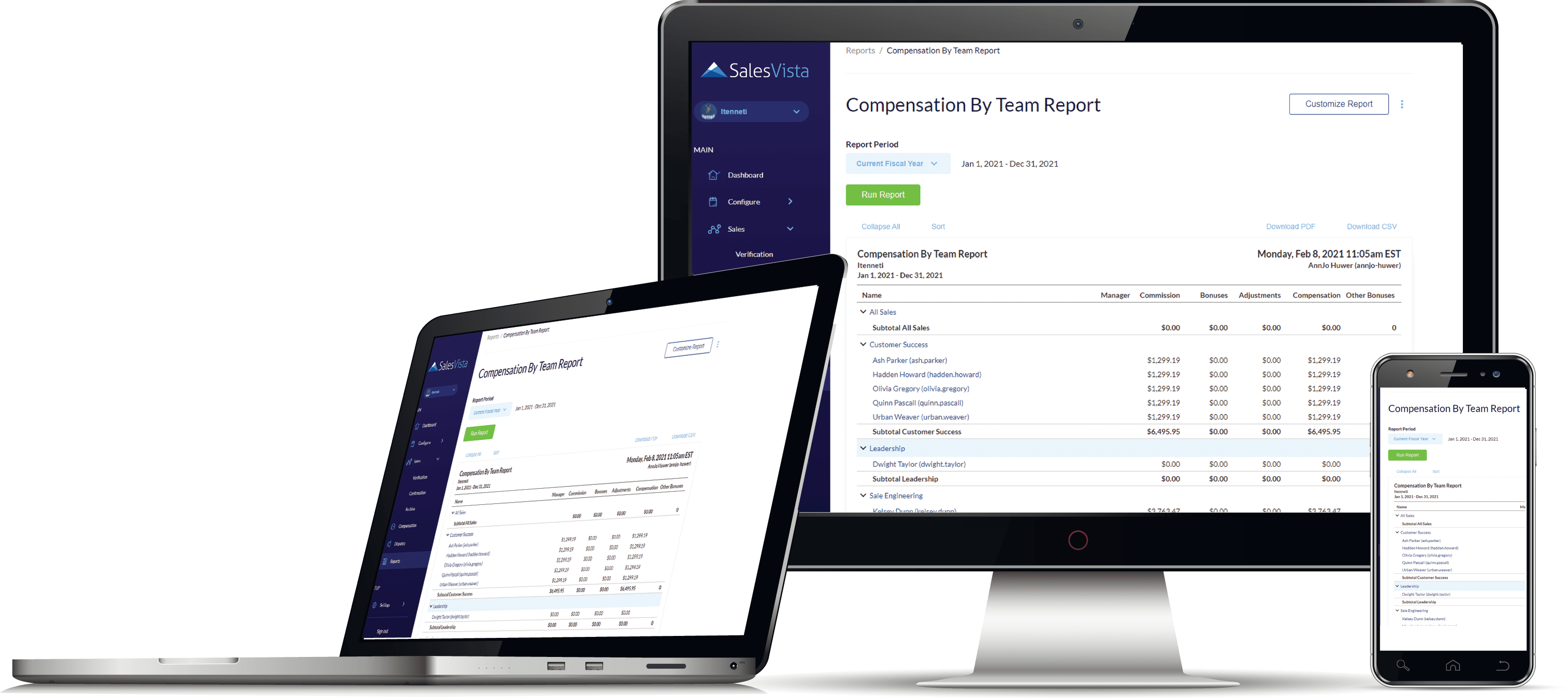 DRIVES PERFORMANCE WITH A SINGLE SOLUTION
Make Better Decisions Affecting Profitability
Implement sales compensation management solutions to effectively influence business decisions and outcomes.
Improve Sales Performance
With our accurate commission payouts and simple to use quota-attainment tracking tools, reps can stay focused and motivated on the right activities that drive productivity and their commission earnings.
Transparent Reporting
Our visualizations and dashboard improve collaboration with consistent and transparent reporting. With accurate KPI insights, business functions that rely on sales-driven data can instantly see what's happening in specific areas of sales performances and goals.
Scale with Automation
SalesVista's cloud technology supports efficient scalability without compromising on quality and value. With its in-house data center, there are no disruptions to your business as the need for your sales compensation programs grows.
AUTOMATE. MOTIVATE.
Experience a customer-centric implementation process from start to launch with SalesVista.
Setup & Configuration

Proof of Concept

Resolution Management

Change Management

Training
One step closer to boosting sales performance.
With SalesVista, there is no more having to go into your CRM and manually run reports, clean up data, enter it into a spreadsheet to prepare for the compensation calculation process. We automate everything and remove the guesswork. Automated calculations drive accurate commissions, payouts, and reporting – boosting sales performance and motivation.
Verify any change before implementation.
Never leave your data to chance. With our proof of concept modeling, you can quickly test your compensation changes before implementing the plan. Our solution ensures the correct reviews and approvals are in place before any new plans/programs are distributed and communicated to your reps.
Easy to use quota-attainment tracking tools.
Our sales compensation solution comes with built-in collaboration and communication tools to address any compensation and commission inquiries. With complete audit trail tracking, managers can promptly respond and resolve discrepancies and inquiries.
Built-in Approvals and Validations.
We keep your plans safe with rules-based processes and policies. No matter the size of your organization and sales teams. We handle complex and straightforward compensation plans and programs, ensuring the appropriate personnel is authorized to approve or validate any compensation changes.
Flexible Customer Training.
With multiple training options from complete end-to-end training, workstreams, and microlearning for easy consumption and retention—our customers can choose their preferences based on what is convenient for them, including exceptional ongoing customer support.
Start Using SalesVista
Start Using SalesVista.
Sign up today for a demo to get started with SalesVista.