Are You Leaving Your Most Critical Sales Performance Insights to Chance?
3 min read
September 10, 2021
Your sales team's performance is one of the most critical factors in your company's financial success.

Salespeople's motivation is based on both internal and external factors. Still, incentive-based compensation is the most direct method a company has to direct their sales team's focused efforts and drive the right outcomes.
Companies invest significantly in this area, but without the right structure, tools, and insights, this considerable investment is usually not optimized to motivate sellers as effectively as possible. Even a small optimization here can deliver significant results.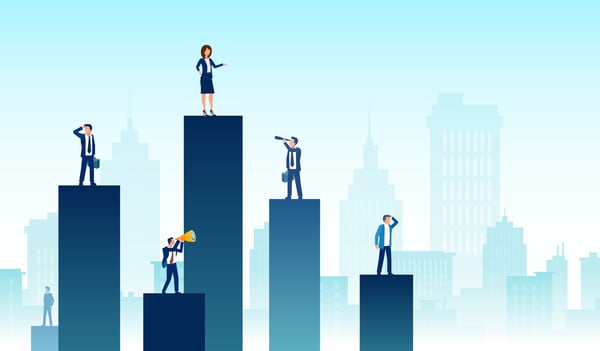 Sales compensation management (SCM) solutions drive efficiency, accuracy, and control in creating and maintaining compensation plans, calculating sales commissions, and providing sales performance reporting. By integrating with critical systems such as CRM and automating the commission calculations, SCM solutions eliminate opportunities for error, which are costly, inefficient, and demotivating to sales teams. Furthermore, this method aggregates insights and allows further optimizations to commission structures and business alignment.
An SCM solution offers advantages across multiple departments. Here's how sales compensation management solution will affect your sales, finance, and executive teams:
Accuracy – Your salespeople expect to be paid accurately. With automated commission calculations, sales teams have visibility and confidence in their commissions.
Efficiency – Run commissions in minutes, not days. SCM solutions pull data automatically, drive human attention to critical tasks like validation and exception handling, and eliminate much of the time-consuming and error-prone processes that create sales and finance issues.
Control – SCM solutions give Finance leaders everything they need to enhance financial control, create an audit trail for all payouts and exceptions, and adhere to increasing challenges such as ASC 606.
Communication – From communicating monthly commissions and plan changes to reps, to delivering a central solution for inquiries and changes, to handling and tracking acceptance of terms to management, your SCM solution will serve as a hub for all
things commissions – saving time and creating an audit trail.


Management Insights – A central location for attainment and payouts gives management new insights to make decisions over time. You can ensure you're working to retain your best reps and that low performers aren't slipping under the radar. In addition, tools to estimate the financial impact of commission plan changes give your management team the insights needed to drive critical business decisions.
Company Alignment – Business changes are constant, with new products, new markets, and continually shifting economic trends. Without visibility into aggregated insights or estimates of the impact of making a plan change, it can be nearly impossible to optimize the incredibly powerful but costly tool that commissions can be. With the management insights created by
a true SCM solution, leadership, can ensure that sales teams are motivated effectively to
drive the right business outcomes and the most meaningful deals for your business.
ASC 606 Compliance – ASC 606 is the new revenue recognition standard that affects all public, private, and non-profit businesses entering contracts with customers to transfer goods or services. Developed jointly by the Financial Accounting Standard's Board and International Accounting Standards Board (IASB), ASC 606 provides a framework for businesses across all industries to recognize revenue more consistently.

In addition, the ASC 606 "Subtopic 340-40" controls the capitalization of sales commissions related to the acquisition of contracts with customers; ultimately, impacting accounting, finance, HR policies, sales, legal, and IT systems. With the right SCM solution, businesses can efficiently implement the appropriate requirements, authorizations, and audit trail for adherence to ASC 606 and Subtopic 340-40.
For successful growth, businesses should not leave their most critical sales performance insights to chance. An organization that values its sales reps and wants to build and maintain a strong sales culture should strongly consider implementing a sales compensation management software. Doing so communicates to the sales team that their contribution is recognized and valued. It demonstrates that the company's leadership understands how important it is to get their commission accurate the first time. And it gives leaders the tools they need to mitigate risk and enhance revenue growth over time.
Are you interested in learning more?
Request a demo
to see how SalesVista can help you unlock your sales team's potential.